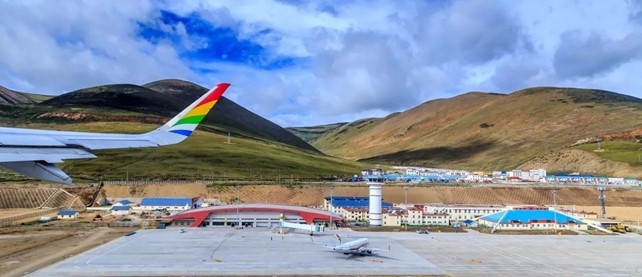 Which airport has with the world's the longest runway, the world's worst climate and situated the farthest away from the downtown? Qamdo Bamda Airport
Situated at the Banda Prairie and the West bank of Yuqu River in a narrow valley in Qamdo Prefecture, Qamdo Bamda Airport is known as "the world's farthest airport away from the downtown", "the world's the longest runway(5,500 m)" and "the world's worst climate" in Eastern Tibet. Qamdo Bamda Airport is the second- highest airport in the world with an elevation of 4,334 m above sea level. Currently, you can fly to Qamdo from Lhasa, Chengdu, Chongqing, Tianjin, and Anhui Fuyang, or vise versa.
Qamdo Town located in high mountains and deep ravines. No matter you come here from Lhasa or Chengdu by road, there are more than 1,300 kilometers, which takes several days on rugged mountain roads. The completion of the Banda airport in Qamdo provides great convenience for travelers who want to visit the scenic spots in Qamdo such as Ranwu Lake, Midui Glacier, etc.Qamdo Bamda Airport is located in Hengduan Mountains and in deep mountains. It's also a plateau airport with an elevation of 4,334 m above sea level. Such topography would affect the climate greatly. At Qamdo Bamda Airport, the wind speed exceeds more than 30m per second in winter and the temperature drops down to 20 degrees centigrade below zero in winter and spring. The oxygen content at the airport is only 50 percent of that at sea level. Taking off and landing in such a condition requires the length of the runway. Therefore, Qamdo Bamda Airport has the longest runway in the world with a runway of 5,500 meters long and 45 meters wide.
The Qamdo Bangda Airport was completed successfully in August 1978. Consequently, it received national acceptance as well as a 100% quality pass. Qamdo Bamda Airport was formerly China's highest airport but Doecheng Yading Airport surpassed it with its height of 4411 meters. The Qamdo Bamda Airport is around 136 kilometers away from the nearest Qamdo Town and it takes around 2.5 hours to drive. Due to this distance, Qamdo Bamda Airport is also being called the loneliest airport in the world.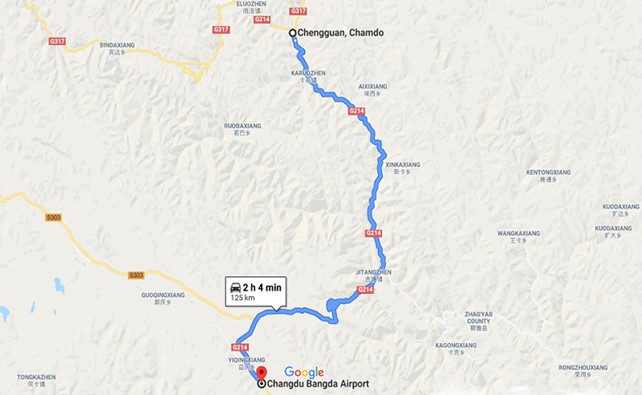 Flights that are Directly Served in Qamdo Bangda Airport
Qamdo Bamda Airport does not have international routes yet but 5 domestic routes only.