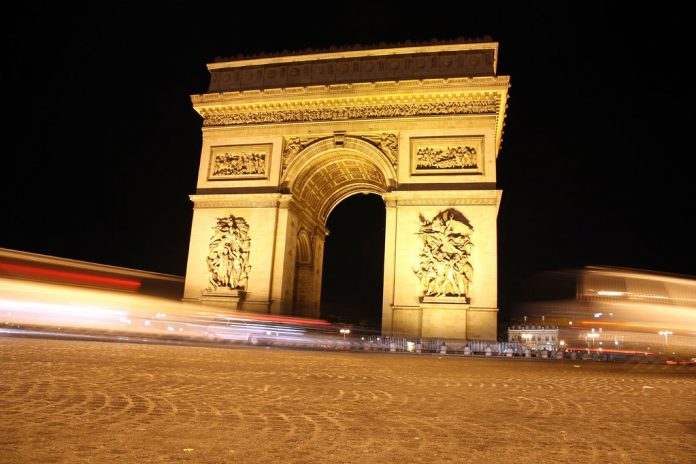 Paris visiting the iconic Champs-Elysees Avenue and other major landmarks in the heart of Paris had to run for their safety tonight after 260 so-called yellow vest protesters were arrested, nearly 100 injured as Paris. The area in the center of Paris has been covered by thick smoke. Those protesting and pushed back by tear gas are people protesting against a new controversial fuel tax.  They called themselves 'Yellow Vests. Cars were seen in flames.
December 1 rallies are being held with the slogan "on the way to President Macron's resignation." As the unrest gained momentum, the area close to the iconic Champs-Elysees avenue has been covered by thick smoke.
While pelting law enforcement with various projectiles, protesters have also resorted to symbolic yellow paint during the standoff. To their delight, quite a few shots have landed on the shields of riot police.
Adding more symbolism to the rally, a man was seen on his knees with arms stretched to both sides in front of the city's key landmark – Arc de Triomphe. Another demonstrator stands right behind him, holding two French flags, while both are facing a line of officers in full riot gear.
As some of the Yellow Vest supporters lined up next to the site, police unleashed a water cannon, knocking down at least two of them, who were carried away.
Some Yellow Vests say police were eager to disperse them even before the clashes broke out. "We arrived in the morning and we've been tear gassed right away. We didn't even do anything," a protester told media.
Hours into the clashes, Interior Minister Christophe Castaner tweeted that at least 1,500 "disruptors" were on the outskirts of the Champs-Elysees. According to police figures, 92 people, including 14 security officers, were injured and 263 arrested in the Paris chaos. About 75,000 people showed up for the Yellow Vest protests held all across France on Saturday.
On Friday, negotiations to settle the issue failed after only two of the protesters' representatives turned up for a meeting with Prime Minister Edouard Philippe. One of them walked out after he was told he could not have TV cameras covering the negotiations. A recent poll shows that despite the mayhem, two-thirds of people in France still back the Yellow Vest cause.