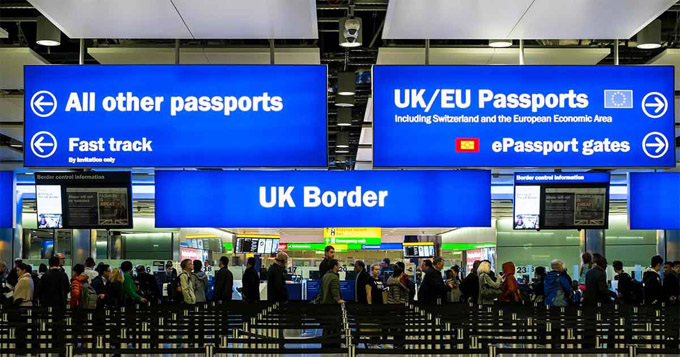 Members of the Public and Commercial Service (PCS) union, including Border Force staff, previously walked out over the Christmas and New Year period.
Now they are set to take part in what PCS says will be the "largest civil service strike for years". The industrial action is set to start on 1 February and last until 7 am on 2 February.
The government has advised travellers planning to enter the UK on this date to check the latest travel advice and be prepared for longer queues than normal. Anyone who can use eGates is also being advised to do so.
"If you are travelling into the UK via any entry point, you should prepare for disruption and check before you travel," the Home Office and Border Force said in a statement
International arrivals at all UK airports and ports including Dover will be impacted. UK border controls at Calais, Dunkirk and Coquelles in northern France are likely to be affected too.
Since Britain left the European Union in 2020, UK travellers face stricter border checks when travelling to the continent. At Dover, they are performed on the English side of the channel by French staff.
During the Christmas Border Force strikes, passport checks at Heathrow, Gatwick, Manchester, Glasgow, Cardiff and Birmingham were affected. Border Force staff at the port of Newhaven, East Sussex, were also included in the strikes.
In response, the government drafted more than 800 military personnel and civil servants to staff entry gates.
Heathrow was challenged with recruiting and training up to 25,000 security-cleared staff before the festive period, a task the airport described as "a huge logistical challenge". Passengers who were not eligible to use eGates faced longer wait times at Border Control.
At Manchester Airport, 200 new security staff are being recruited, but won't start work until April 2023.
More than 10,000 flights carrying up to 2 million passengers arrived at the affected airports during the strike period, according to aviation analytics company Cirium.