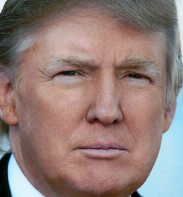 The Trump administration has asked the US Supreme Court to reinstate his controversial travel ban. The Justice Department has filed two emergency applications arguing the ban on six mainly Muslim countries is necessary to keep the US safe. "We have asked the Supreme Court to hear this important case and are confident that President Trump's executive order is well within his lawful authority to keep the nation safe and protect our communities from terrorism," said Justice Department spokeswoman Sarah Isgur Flores. "The president is not required to admit people from countries that sponsor or shelter terrorism, until he determines that they can be properly vetted and do not pose a security risk to the United States." If successful, the travel ban could be reinstated within a few weeks. Previous attempts at imposing a ban have been blocked by lower courts who argue it is discriminatory. But this week's applications argue that the lower courts made several mistakes when blocking the ban, including relying on statements the US President made during the 2016 campaign. An original ban was put into place shortly after Trump came into office in January but led to chaos at airports and protests across the country. It banned entry to nationals from Somalia, Iran, Iraq, Syria, Sudan, Libya and Yemen for 90 days and stopped the refugee programme for 120 days. It was blocked after a legal challenge initially mounted by Washington state and Minnesota. A revised order was then signed in March to try to address legal issues, and Iraq was removed from the list. But a district court in Maryland found the revised ban violated constitutional rights and blocked it before it could take effect. A federal judge in Hawaii also ruled the ban was discriminatory. Last month, a federal appeals court refused to lift the temporary block, saying Trump's argument about the risk to national security was a 'secondary justification for an executive order rooted in religious animus and intended to bar Muslims from this country'. Trump will need the support of five of the nine Supreme Court judges to reinstate the ban. Meanwhile, Trump has received global criticism for his decision to pull out of the 2015 Paris climate agreement. Walt Disney CEO Bob Iger was just one of the many top business leaders who were quick to condemn the decision. He has resigned from the President's Council in response to Trump's announceme.
EXTRA: Trump critized in Guardian
Donald Trump's first response to the news of the London attacks was to retweet a conservative news website better known for sensationalism and partisanship than for accurate reporting.
It is unclear whether the president received any kind of intelligence briefing of his own about the attacks before he saw a tweet from the Drudge Report that said: "Fears of new terror attack after van 'mows down 20 people' on London Bridge.
That was what he passed on under his personal Twitter account, @realDonaldTrump.
Seventeen minutes after the Drudge tweet, White House press secretary Sean Spicer tweeted: "National Security team has briefed @POTUS on situation at #LondonBridge and will continue to provide updates."
NBC felt the need to caution its audience about the credibility of the information the president was passing on. The channel put out its own tweet in response, saying: "Pres[ident] Trump has used Twitter to share news report on London incident. We aren't relaying president's retweet, as the info is unconfirmed."
Later, the Drudge retweet disappeared from Trump's personal profile page.