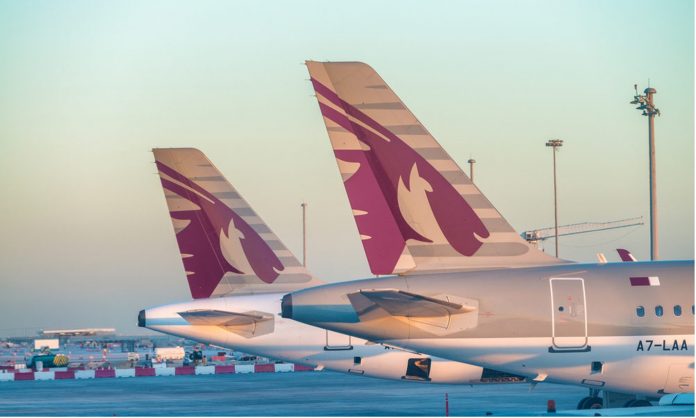 While Middle East carrier Qatar Airways is preparing to once again fly their fleet of Airbus A380 airframes, the airline's president is not excited about bringing the superjumbo jet back into service. In an interview with Executive Traveller, Akbar Al-Baker said he "never wanted to fly them again" after the pandemic.
Although the Airbus A380 is a flyer favorite for its enormous size and opulent amenities, Middle East carrier Qatar Airways says they are reluctant to bring it back into service. In an interview exclusive to Executive Traveller, outspoken airline president Akbar Al-Baker told the publication he never wanted Qatar to fly the airframe in the future.
Remaining A380 Seats will Supplement Holiday Demand
In previous interviews with the publication, Al-Baker has called the 517-seat, double-deck aircraft the company's "biggest mistake," due to the high fuel costs and carbon footprint. When the COVID-19 pandemic forced airlines to ground aircraft as borders, closed, the head of the Doha-based airline wanted to keep them parked permanently.
"We grounded the A380s at the beginning of the pandemic, and we never wanted to fly them again," Al-Baker told Executive Traveller.
However, with the airline having trouble accessing the Airbus A350 due to regulatory issues, the airline will once again utilize the A380 ahead of the holiday season. With travelers expected to resume some international travel at the end of the year, the giants will fill a gap of around 4,000 seats in the winter.
More importantly, the aircraft will provide a significant number of economy seats available for budget travelers who are driven more by price than amenities. For luxury travelers, the A380 will return their highly favored first class and business class seats, complete with upstairs in-flight lounges. It is unclear which routes will be served by the A380.
In addition, the airline will start re-introducing the Airbus A330 and Boeing 777 into their fleet operations this fall. To bring in pilots, Qatar is offering six-month contracts to British Airways captains and first officers. They are also in the process of rehiring A380 pilots laid off during the pandemic and getting them re-certified.