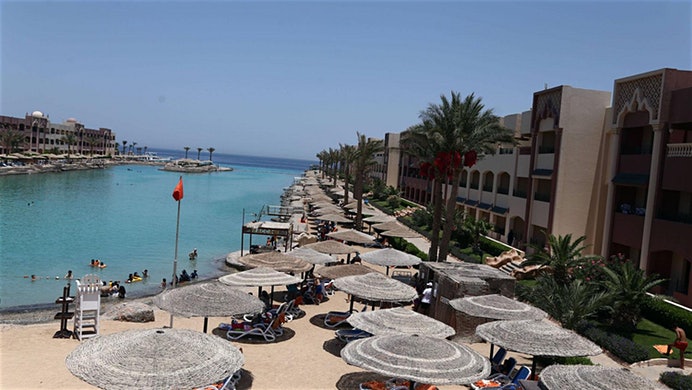 Spain might have had its problems in 2017 but that doesn't seem to have dented demand among European consumers, according to Thomas Cook.
The tour operator said its margins remained under pressure in the country – its most popular destination.
Spanish hoteliers – who have been able to command high prices over the last couple of years – are still doing so, while the company is also dealing with increased flight capacity.
Nederst på formularen
Thomas Cook's answer to tougher conditions in its biggest destination is more holidays to higher-margin resorts in Turkey and Egypt.
"Even in the worst year we had still one-and-a-half million customers who wanted to go to Turkey," said Peter Fankhauser, the company's CEO on a call with journalists.
"Turkey offers a great portfolio of hotels, a very good value-for-money proposition, great beaches, nice people and it really compares now to other destinations," Fankhauser said. "It is just an excellent deal to go there.
"I'm not astonished and I always said Turkey's coming back and Turkey seems to have come back this year quite strongly."
Part of the reason for Turkey's resurgence is that German consumers are more interested in going. Demand from the company's largest source market had been slower than from the UK, its number two. Fankhauser said there was no longer a difference between them.
Turkey is now neck and neck with Greece for the title of Thomas Cook's second most popular destination behind Spain.
Thomas Cook also said it would soon start operating flights to Tunisia after a gap of two–and-a-half years. It started selling holidays to the country in August. Tour operators have largely avoided the North African country following the terrorist attack in Sousse in June 2015.
European tour operators tend to take substantial losses in the winter.  They generate the bulk of their profits in the summer when most of their consumers go on holiday. That said, winter financial updates are usually a good indication of what kind of year a company is going to have because a decent volume of customers have already booked their holidays.
Thomas Cook's holiday and flight program for summer 2018 is 34 percent sold, 3 percent higher than at the same point last year. Bookings in its UK tour operator division rose 3 percent and average selling prices increased 6 percent. The increased price reflects Thomas Cook's additional costs relating to fuel, foreign exchange and hotel rooms.
"We believe that Thomas Cook has reported a robust set of Q1 results which show that it has continued to grow booking volumes strongly, despite passing through material cost inflation to customers," analysts at Numis said in a note to investors.
Revenue for the three months to the end of December rose 7 percent to $2.5 billion (£1.7 billion) with the underlying loss (earnings before interest and taxes) dropping 19 percent to $59 million (£42 million).