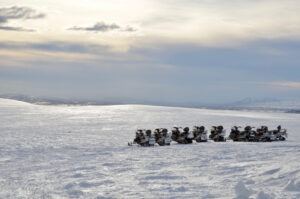 If you don't have your Europe wish list handy, go ahead and toss it aside because you're going to need a new one altogether after this. Instead of the usual European vacation, conjure up the kind of bucket list experiences you'll always remember from speed boats, golf cart tours, icy hideaways, and snowmobiling across glaciers. Here's what to do and see in Europe to remember for a lifetime.
Ride on a Glacier in Iceland
Iceland's tourism has exploded in the last decade and draws tourists to its storybook landscape where legends of elves and trolls abound. Ideas for bucket list include volcanoes, glaciers, geysers, and hot springs. And you get all of that against a backdrop of eternal sunrise in summer and scant shimmer of daylight in winter months.
Exploring all of the wonders of Reykjavik's museums and attractions just scratches the surface of a visit to Iceland. A tour of Iceland's Golden Circle is a must, and combining it with a snowmobile tour includes instant social media fodder and bragging rights that will make your family jealous. Start with a visit to the UNESCO World Heritage Site, Thingvellir National Park, to see the open-air government assembly dating back to 930 AD. The area is also home to the Silfra fissure where overzealous scuba divers dive between the North American and Eurasian continents. Chose an Iceland tour that includes stops by jeep at Gullfoss waterfall, Haukadalur Valley and its geothermal waters, and the completely surreal experience of gliding across a glacier by snowmobile.
Gallop Through Ancient Petra by Horseback
Originally known as Raqmu, the city of Petra stuns visitors with its rose-red structures carved from stone. The city lies uninhabited and is hidden away by towering sandstone mountains in the desert stone. Take a horseback ride through the surrounding area and imagine yourselves as ancient royalty navigating the desert.
Once it's time to say goodbye to your horses, don't miss the chance to take a sobering walk through the Siq. The winding, narrow fissure between towering cliffs will make you feel like the latest Indiana Jones franchise, minus all the paparazzi and fanfare. Join a tour of Petra starting from Amman to explore the Siq while knowledgeable guides share insights about the ancient royal capital.
Tap Into Your Literary Side in Paris
Paris just begs literary wanderers and romantics at heart to savor its fair city and feverishly pen the next best thing on Goodreads. If you've harbored a lifelong passion for writing, just soak up the literary energy on a walk through Paris' St. Germain neighborhood. Try a tour that strolls along Rue de Vaugirard and walk in the literary great's footsteps on the longest road in Paris. This winding street features the home of Ernest Hemingway and his second wife, and the hotel where William Faulkner drove himself mad penning his breakthrough novel, Sanctuary.
After winding down your walking tour, look for Café de la Mairie on Rue de l'Odéon for a coffee or flavored Parisian soda. This is the spot where writers Djuna Barne and Henry Miller hung-out and looked impressively literary while pondering their greatest works. Then stop by the Shakespeare & Company bookshop to grab your own classics to take home. After all, you're now transformed into literary giants ready to unleash their age-old brilliance onto the world.
Learn About the Powerful Anne Frank
Amsterdam is one of those places we all went way back in our 20s and never realized we could actually come back and appreciate its amazing culture, history, and beauty. And if you're looking for a multigenerational trip with adult kids or grandkids alike, Amsterdam has magically transformed into a family-friendly destination with plenty to see and do.
First thing, first. Head over to the Anne Frank Museum and learn about the girl behind the infamous World War II era diary. To get a deeper look into how the tragedy of the Holocaust impacted the world, take a Jewish tour through Amsterdam that includes a stop at Anne Frank's house. You can also see a breathtaking work of art from the Dutch Jewish community at the Auschwitz Monument. Lastly, get a sobering history lesson at Hollandse Schouwburg where Jews were deported before exploring a Portuguese Synagogue.
Ride the Waves on the Amalfi Coast
We're pretty sure even the locals can't stop gasping at the sheer magnitude of beauty of the Amalfi Coast. It's hard not to just stare and stand in place, except that you're compelled forward to see what this little gem has to offer.
It's not so much about what you see on the Amalfi Coast as much as how you see it. Hop a private speed boat rivaling the best spy movies to grace the silver screen. Kids at heart will feel like they're on an adventure while whipping through the waters, and the cultured grown-up inside you takes in the expansive views of this dazzling and mind-boggling vertical coastline. Afterwards, stroll through town for a drink and appetizer while soaking up the sunset reflecting off the water you just soared over.
Eat Like a Clooney in Venice
You can't ponder Venice without conjuring up dreamy canals with gondoliers standing impossibly poised and balanced on their boats. Although Venice and all of its glorious attractions by day are divine to explore by foot, you really need the backdrop of the evening to nail that quintessential Gondola ride.
Hop on a classic Gondola tour as the sun dips over your new favorite city in the world. Now is the time to discuss how you're all going to go full wanderlust and launch careers as gondoliers. After you're all warm and fuzzy from your sunset ride, go and eat at that wonderfully perfect restaurant. Rest assured that Ristorante Da Ivo is George Clooney approved. In fact, Clooney allegedly dropped $5k here and ate like a king on the eve of his wedding. But don't worry, you can still enjoy Ristorante Da Ivo without dipping into your retirement funds.
Experience the Best of Rome on a Golf Cart
We've spent an inordinate amount of our lives learning about ancient Romans and watching Hollywood's latest Colosseum-fight-to-your-death-flicks. We've been thinking about Rome for so long that actually visiting this glorious city almost feels surreal. In between ruins, museums, and seeing the birthplace of absolutely everything, we start to feel overwhelmed by just how much there is to see and do.
So start with the classics and really experience the city instead of just checking the "must-sees" off your list. Fortunately, a golf cart tour in Rome is the perfect way to explore the area for an intimate and unique view of the city. You'll see more of the old city while getting off the bustling streets and onto quieter paths.
Step Back in Time Through Communist Era Berlin
It's difficult to imagine that the thriving city of Berlin was ever ripped apart by the Cold War and was once the source of so much worldwide tension. Many of us can remember back to when the Berlin wall finally fell and wondering what would happen next. Today, Berlin's bustling streets and travel trend-setting spot keep tourists coming back for more.
Explore Berlin's history and learn more about the Cold War and reunification that brought the city back together. A historical tour takes guests exploring everything from architecture of the former German Democratic Republic to a real prison cell run by the Stasi East German Secret Service. Authentic Communist vehicles also sit on display at the Technical Museum of Putnitz. You'll even see the limousine of the former Russian government called "Tschaikas" that may send shivers down your spine.
Get Medieval in Croatia
London always seems to take top rank for the most grotesque medieval torture chambers, area castles, towers, and royal weddings. In fact, we're ready for more royals to get married so we can talk about their fancy hats. However, Croatia has its own medieval history bragging rights with acres that once served the Roman empire.
A tour of Split in Croatia reminds us of what we've been missing in our lives: Diocletian's Palace. This famous monument marks the rule of Roman emperor Diocletian and his fabulous palatial grounds. Wanderlusting travelers who just can't get enough cathedrals and catacombs can also stop by St. Domnius' Cathedral. And just a hop, skip, and a jump away lies the medieval city of Trogir situated atop a small island. Take a tour across and explore its palaces, churches, and monasteries while snapping stunning photos along the backdrop of the sea.
Get Iced in Stockholm
Just follow the smell of fresh cinnamon buns baking in Stockholm and wander through twisting alleys until you find the Royal Palace. Constructed in 1754, the ancient palace and the surrounding beauty of Old Town make you wonder why you're living in the 'burbs back home. "Original Stockholm" stuns with the romance of impossibly gorgeous 16th and 19th century architecture. Take a walking tour through Old Town and see the old Stock Exchange that now serves as the Nobel Museum and the Swedish Academy. While you're there, stop by and see if you managed to win the Nobel Prize for Best Travelers of the Year. (Because if that is a thing, you would totally win it).
After a day of touring, cool off in Stockholm's infamous icebar that's kept at a mind-boggling -5 degrees Celsius year-round. Don't worry, the tour provides warm ponchos and gloves before going in to sip an ice cold glass of vodka or other beverage. Finish your visit by raising your glass and saying, "Proost!" in a cheerful toast.
Remember it's the little things that really make a memorable and meaningful vacation, and when you put them all together, you have a European bucket list adventure. The hard part is choosing which one to check off your list first. Where will you head next in Europe?
This article was originally published on ShoreTrips