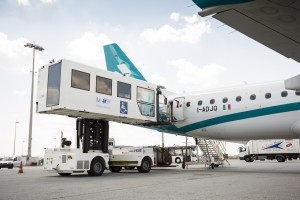 To offer greater ease and convenience for passengers with reduced mobility, Munich Airport is now putting a new-generation boarding platform into operation: the Medical High Loader. It will transport arriving and departing passengers with disabilities to and from the aircraft quickly and in comfort.
The new high-tech device has many advantages: For example, the 15-passenger transport cabin can be raised or lowered while en route, which speeds up the transport of the passengers considerably. It can also be lowered sideways, allowing passengers to board and disembark at ground level. Support for passengers with mobility limitations at Munich Airport is handled by the firm Aicher Ambulanz, which has added the new lifts to its vehicle fleet.
The first of the four new high loaders ordered by Aicher is already in operation. The airport's Mobility Service staff are currently receiving training to familiarize them with the 21-ton vehicles. The new lifts will be deployed on the ramps of both terminals in future, and are suitable for all aircraft types. Munich Airport's Mobility Service helps an average of 630 passengers per day to enjoy barrier-free travel to and from Munich.