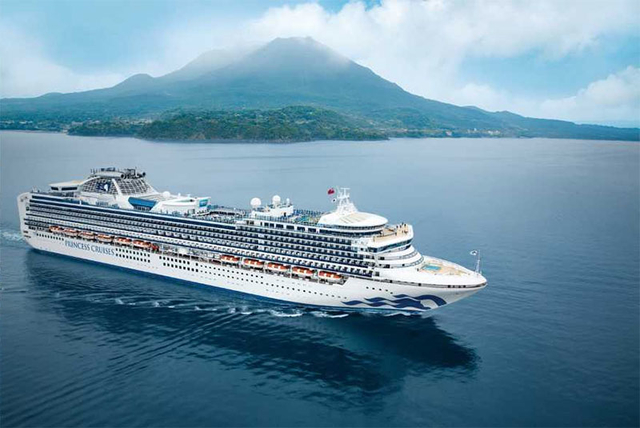 Princess Cruises has been forced to cancel an eight-day voyage onboard the Diamond Princess and the ship has been placed in quarantine after a previous passenger was discovered to have the coronavirus.
Diamond Princess is currently docked off the coast of Japan, not far from Tokyo, with more than 3,600 people onboard.
Medical experts are reportedly visiting all passengers in their cabins to check their temperature and medical condition.
Several of the 2,666 guests currently onboard Diamond Princess have reported feeling ill, according to Japan's health ministry.
The medical checks are expected to take several hours and the passengers and 1,045 crew members won't be allowed to leave the ship until this evening at the earliest.
The passenger who tested positive for the coronavirus is an 80-year-old from Hong Kong who had briefly visited mainland China on January 10. He boarded the cruise ship in Yokohama on January 20 but left when it arrived in Hong Kong on January 25.
In a statement, Princess Cruises said: "On the previous voyage, a guest from Hong Kong, embarked in Yokohama on January 20, sailed one segment of the itinerary, and disembarked in Hong Kong on January 25. He visited a local Hong Kong hospital, six days after leaving the ship, where he later tested positive for coronavirus on February 1.
"While on the ship he did not visit the ship's medical centre to report any symptoms or illness. The hospital reports that he is in stable condition and the family members traveling with him remain symptom-free.
"The safety, security and well-being of all guests and crew is our absolute priority. The review of the arriving guests and crew, by Japanese health authorities, is standard practice after a guest tested positive for coronavirus and we are working closely with the local authorities to provide detailed records to facilitate their review."
A spokesman confirmed the next cruise onboard Diamond Princess, which was due to depart today, has been cancelled.
"We fully appreciate this decision will be disappointing but the safety, security and wellbeing of our guests, crew and the places we visit are our absolute priority. All guests will receive a full refund and a one hundred percent future cruise credit," he said.
"We are working with the relevant health authorities to determine the further action required and will provide updates as soon as we have more information."
The coronavirus, which is thought to have originated in the Chinese city of Wuhan, has infected more than 20,000 people in two months and resulted in 427 deaths, 425 of which were in China.
Some 6,000 passengers on the Costa Smeralda were  quarantined last week after two guests were suspected of having the Wuhan coronavirus, although tests later showed they were suffering from a flu virus.
Several cruise lines – including Princess and Carnival – have announced measures aimed at stopping the spread of coronavirus, including barring guests from ships if they have travelled from or through mainland China in the 14 days prior to the departure date of the cruise.
Royal Caribbean is barring passengers who have visited mainland China or Hong Kong within 15 days of departure.