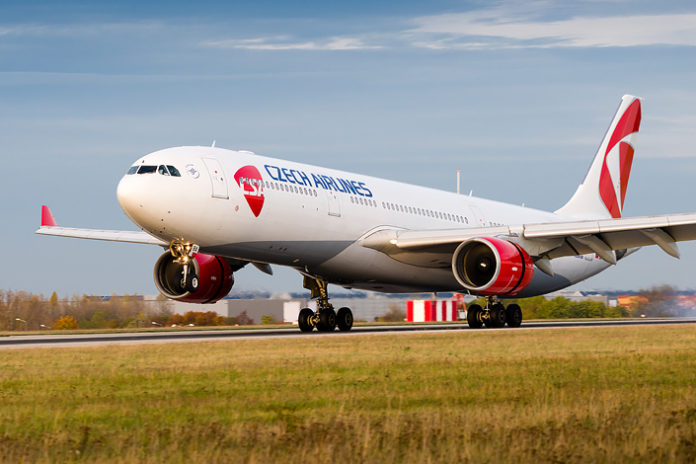 Czech Airlines will restart part of its operations later this month after a six-week interruption.
The airline will resume some of its services on 18 May, with flights to Amsterdam, Frankfurt, Paris and Stockholm among those reopened in the first wave. On 24 May the route to Kiev will reopen, followed by Odessa and Bucharest on 25 May, it said.
Passengers will be required to wear face masks during the entire flight, and a distance of two metres from person to person will be enforced. The cabin will undergo disinfection before and after each flight, the airline said:
Before boarding Czech Airlines aircraft and throughout the flight, all passengers must wear mouth and nose protection , except for children under two years of age.
We therefore ask you to bring your own protective equipment. These can be disposable drapes, respirators, hand-sewn mouthpieces or even a scarf or shawl.
All cabin crew will also be equipped with respiratory and hand protection.
Wearing respiratory protective equipment is mandatory in the Czech Republic, so mouth and nose protection must be worn outside the decks of our aircraft, ie. before entering and after leaving the aircraft.