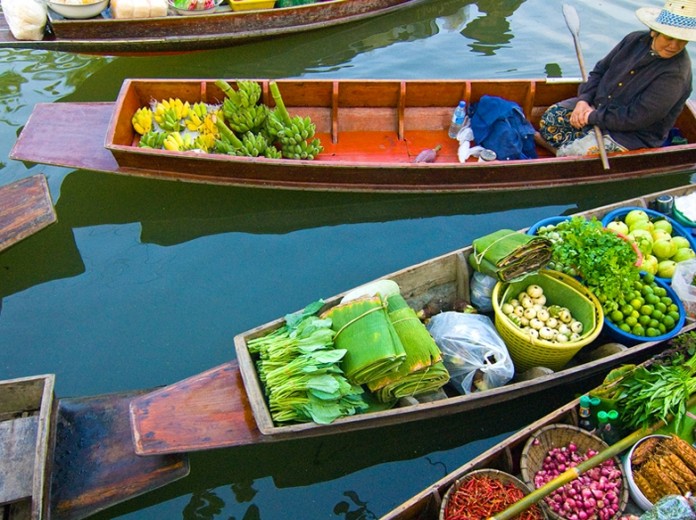 "Less touristy than other markets. That's why we went there. It was great standing right above the boats watching the women cooking all sorts of things (the smells were magical) and customers rowing up to them to make their purchases. It is not all that big, but you can fill in an hour quite easily, especially if you like to take heaps of photos. From there, our tour guide hired a motorized boat to take us for a tour of the canals. That was totally awesome. The canals are just like roads for the locals. You get to see their houses and even a shop on the canal bank. The locals were quite friendly and a lot of them give you a wave and a big smile. If you go to the market, do yourself a favor and do a canal tour, you won't regret it."
Less touristy than other markets. That's why we went there
Paul and Lyn, Brisbane, Australia, was full of admiration when they rated Tha Kha Floating Market, Thailand, on Tripadvisor, and provided the market with five out of five possible stars. Tha Kha Floating Market is a floating market about 60 km southwest of Bangkok, near Amphawa Floating Markets in Samut Songkram.
A proof, that although Thailand is visited by nearly 29 million tourists annually, it is still possible to find unknown, picturesque and genuine areas in Thailand with very few tourists, if you go a little outside the usual tourist areas.
Three of these areas are the provinces Samut Songkram, Chumphon and Nakhon Sri Thammarat
Samut Songkram
The lush and dazzling Samut Songkram is located about 60 km to the southwest of Bangkok by the meandering river Mae Klong. The leisurely river-based lifestyles of the local people and the sight of lush orchards makes the province charming and worth a visit. Some of the area's best destinations are the small and charming, yet less touristy floating markets in Amphawa and in Ta Kha.
Chumphon
South from Hua Hin and with 200 kilometers of coastline, Chumphon is home to Thailand's numerous beaches yet infrequently visited by tourists. It is also a gateway to the diving joy Koh Tao. Not to mention some small islands outside the coast are worth visiting, such as the undiscovered tiny island Koh Talu, ideal for relaxation, diving and snorkeling.
Nakhon Sri Thammarat
Neighbor to the tourist mecca of Krabi is Nakhon Sri Thammarat province. The coastal province is steeped in history and contains the most important temple in the South at Wat Mahathat. Khanom, a small coastal town in the province, is home to numerous beautiful and tranquil beaches with palm trees slanting gracefully under a bright blue sky and turquoise blue sea.
The province also features one of the biggest national parks in the region at Khao Luang with enough waterfalls to keep anyone happy.