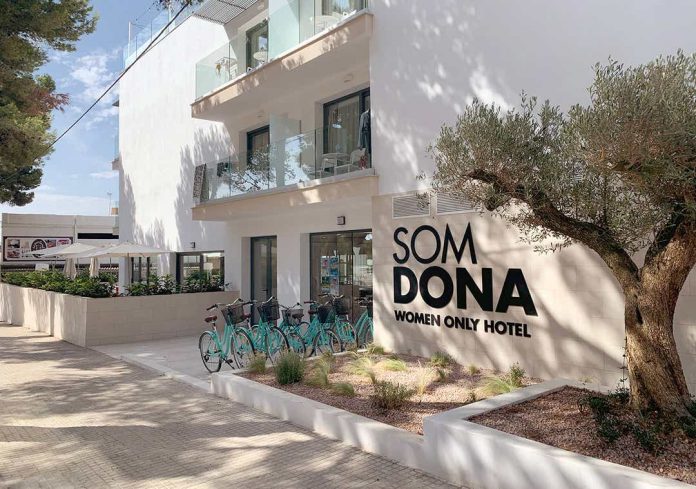 On the dreamy island of Mallorca, Som Hotels has created a new kind of getaway: A hotel for women only.
Women and female teens are welcome to stay at Hotel Som Dona, which translates to "we are women." The hotel opened officially on June 14.
The 39-room hotel will offer amenities such as massages, beauty treatments, sports and excursions to the surrounding area.
Som Hotels CEO Joan Enric Capellà told USA TODAY in a statement that the rooms were carefully designed for women who seek relaxation in a Mediterranean environment.
And Mallorca, an island that offers turquoise waters, soft sand and historic towns just a quick hop, skip and a jump from Europe's mainland, is the perfect place to kick back.
"All rooms at this Porto Cristo location have an innovative artistic concept, and are large, well-lighted, with beautiful views to the forest," said Capellà.
Each room is fully furnished with a double bed and a private bathroom.
And guests who stay in Splendit double rooms, on a superior tier, are offered international newspapers, dock stations, in-room tea and coffee service, early check-in and late checkout, a complimentary mini bar, and a bathrobe and slippers among others conveniences.
The decor, featuring a red-and-white color palette and a modern vibe, also has a feminine flair, the site said.
"Every single detail here is women oriented: from rooms to the outdoor pool, to the restaurant or to the rooftop bar," said Capellà.
The space is meant for women to disconnect from the stress that comes with daily life, according to the hotel website.
Capellà explained that they created the hotel parallel to a trend related to women-only spaces such as gyms, co-working spaces and businesses. And he noted countries such as Germany and Japan already have women-only accommodations for travelers.
Som Dona, he continued, will meet the new demand for women-only spaces.
Before developing the hotel, Capellà said that the hotel chain completed market research with its customers to see what they sought out in a hotel experience.