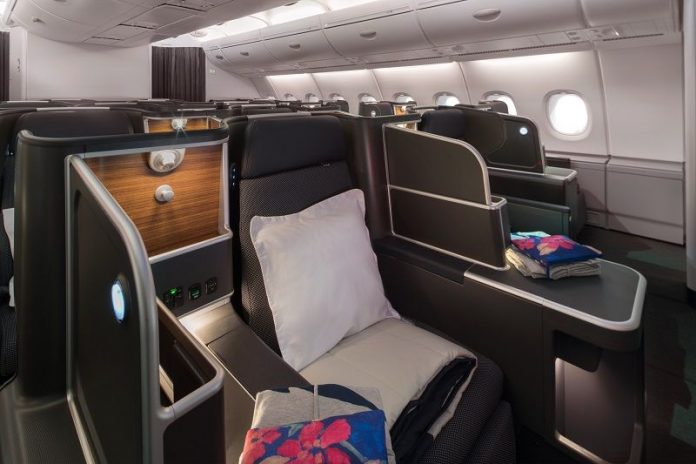 The first of Qantas' upgraded A380s welcomed its first passengers on Oct. 1, offering a new level of comfort for customers. There are now 30 fewer Economy seats and an increase in premium seating by 27 percent.
The multimillion-dollar upgrade of 12 aircraft includes new seating across expanded Business and Premium Economy cabins and a refresh of the aircraft's First and Economy seating. The onboard lounge has also been redesigned.
Key elements of the upgrade include:
The introduction of the Qantas Business Suite, replacing the previous Skybeds, in a 1:2:1 configuration that now gives aisle access to every passenger.
The installation of the new Premium Economy seat (first debuted on the Qantas Dreamliner) and increasing the number of seats from 35 to 60.
A larger on-board lounge space with seating for up to 10 Business and First passengers.
An update to the 14 First Class Suites with new contoured cushioning, seat finishes and a larger, higher resolution entertainment screen.
A new color palette for the Economy cabin and improved inflight entertainment.
Australian designer David Caon has transformed the aircraft's upper deck lounge, which has been significantly expanded.  It now features seating for 10 people on deep green leather couches and wood paneled walls. Customers will be able to order from a range of bespoke snacks and light meals to be enjoyed in the lounge.
The Caon-designed Premium Economy seat, which made its debut on the Qantas Dreamliner fleet, also features as part of the upgrade. Smarter use of space on the A380 has allowed Qantas to increase the number of Premium Economy seats from 35 to 60. In total, there is a 27 per cent boost to premium seats, improving the economics of the aircraft and allowing Qantas to respond to growing demand on long-haul flights.