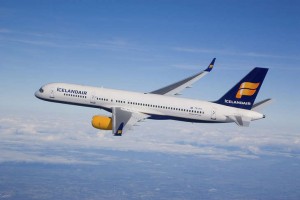 Icelandair and Alaska Airlines have entered into a codeshare agreement and frequent flier partnership, which will give customers easier connections and more ways to earn benefits when flying between the US and Europe.
With the new codeshare agreement, to take effect Nov. 1 pending government approval, customers flying on Alaska Airlines and Icelandair will enjoy seamless reservations and ticketing, one-stop check-in, baggage checked to its final destination, coordinated flight schedules, the ability to earn miles and/or points on the reciprocal airline and consistent passenger service standards.
Elite-level members of each airline's frequent flier program also will receive reciprocal club lounge benefits.
Icelandair operates flights from 16 cities in North America to Iceland with connections to more than 20 destinations in Europe, including Amsterdam, Brussels, Copenhagen, Frankfurt, London and Paris. Travelers can also enjoy an Icelandair stop-over to visit the city of Reykjavik and tour surrounding areas for up to seven nights at no additional airfare charge.
"With today's announcement of our Alaska Airlines partnership, Icelandair continues to expand its network, including more flights, more gateways and more destinations," said Helgi Mar Bjorgvinsson, Icelandair's senior vice president of sales and marketing. "Our codeshare flights and mileage partnership will make travel seamless from the West Coast, reward frequent travelers on both Icelandair and Alaska Airlines, and offer our passengers even more options when traveling to Iceland and beyond."
Icelandair has a long history of providing flights from the United States to Europe. The airline offers onboard Wi-Fi access, personal inflight entertainment, three cabins of service and two free checked bags for customers. Icelandair Saga Club, Icelandair's frequent flier program, offers members multiple options to redeem their Saga Points, whether it is a flight with Icelandair, onboard refreshments and duty free items, hotel accommodations around the world or gift certificates at various retailers in U.S. and Canada. The most frequent fliers with Saga Gold and Silver status enjoy excellent benefits, such as upgrades, lounge access and extra baggage allowance.