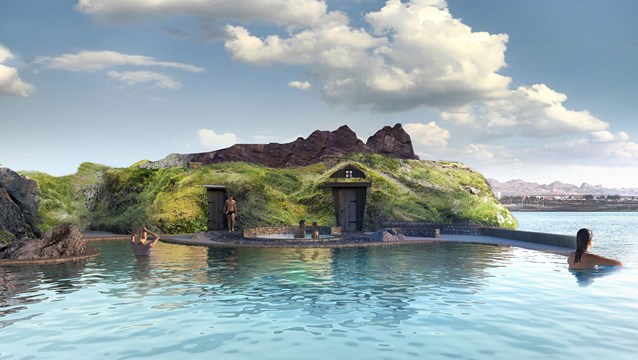 Visitors to Iceland looking to avoid the crowds at the famous Blue Lagoon will have a new option next year. 
Pursuit, an attractions and hospitality company, unveiled plans for an oceanfront geothermal lagoon set to debut in spring 2021.
Sky Lagoon will be located in Karsnes Harbor in Kopavogur, near Reykjavik's city center, according to Dagny Petursdottir, general manager, Sky Lagoon.
"Spending time relaxing in natural geothermal waters is an integral part of our culture here in Iceland," she said. "Sky Lagoon's multisensory oasis will feature an oceanside, infinity-edge design in addition to cold pool and sauna experiences."
Amenities will include an in-lagoon bar as well as dining and retail venues.
The facilities around the geothermal lagoon are already under construction.
The project follows Pursuit's recent launch of a FlyOver Iceland experience in Reykjavik, a full-motion, spherical-screen, virtual ride over the destination.
Iceland reopened its borders to international travelers June 15.