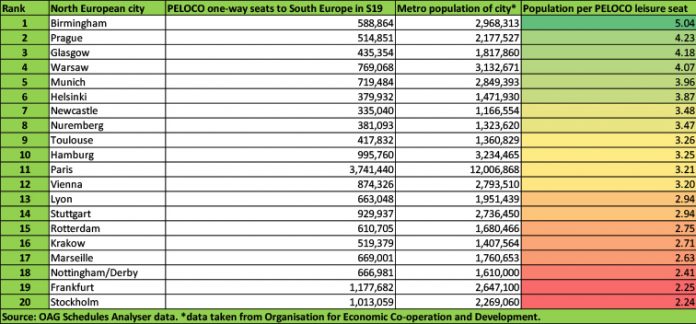 In recent weeks, a number of European airlines have introduced new markets as the world prepares to travel again post-pandemic, and amongst the carriers leading the charge are the pan-European low-cost (PELOCO) carriers. With forecasts indicating that it is the leisure market that is likely to bounce-back in the shortest time, this can also lead to hundreds of new opportunities for these airlines to create and stimulate demand in markets as people look to escape the lockdown lifestyle.  With that, anna.aero has decided to conduct an analysis of the market between North Europe and the Southern Mediterranean region to get an understanding of which cities in the north were underserved by the PELOCO airlines pre-pandemic, with these cities being key areas where new leisure demand can be created as these carriers hunt for revenues.
For this analysis, nations classed as Northern Europe are UK, Ireland, Norway, Sweden, Denmark, Germany, Poland, Czech Republic, Hungary, France, Finland, Switzerland, Lithuania, Latvia, Estonia, Slovakia, Belgium, Netherlands, Luxembourg, Austria, Romania, Moldova, Ukraine, Serbia, Slovenia, Iceland, Bosnia and Herzegovina and North Macedonia. Southern nations for the Mediterranean region are Spain, Portugal, Italy, Greece, Bulgaria, Croatia, Malta, Turkey, Cyprus, Morocco, Israel, Egypt, Montenegro and Albania. Before looking at the results, the following is a brief snapshot of the top leisure country markets pre-pandemic.
Along with UK-Spain, other strong leisure markets pre-pandemic included Germany-Spain (11.18 million one-way seats), Germany-Turkey (6.87), Germany-Italy (6.60) and UK-Italy (6.07). Country markets which just fell shy of the top 12 included France-Portugal (2.67 million) and Switzerland-Spain (2.54 million).
In this analysis, the pan-European low-cost (PELOCO) carriers which have been included are airlines with bases in more than one country market. For instance, some consider Jet2.com, Condor, TUI etc to be low-cost leisure airlines; however, they tend to only serve their home markets from southern Europe and have a greater share of seats sold as holiday packages, therefore not making them pan-European low-cost airlines where seat-only sales make up the greater share of bookings. On that note, the airlines included in this study are Ryanair, easyJet, Wizz Air, Norwegian, Vueling, Blue Air, Volotea, Eurowings and Transavia (includes Transavia France AOC).
Finally, the destination origin was looked at from a city perspective, due to certain markets like London and Paris having more than one airport serving it (Heathrow and Gatwick; Orly and CDG etc). The analysis, due to looking at underserved markets, focused on Northern European cities/airports which had over 320,000 one-way departing seats to leisure markets. The below table shows the top 20 underserved markets in North Europe, measured by available PELOCO one-way seats to the leisure markets versus the city's metro population area.
As the table indicates, the most underserved market in Europe for PELOCO leisure seats is Birmingham, with it having a population of 5.04 people per low-cost seat to Southern Europe. While it is a base for Ryanair, the only PELOCO carrier to have a base in Birmingham, the ULCC served just 20 destinations in nations classed in this analysis as Southern Mediterranean, with an average weekly frequency of 4.8. The UK airport has welcomed the news that Wizz Air will open a new route from Larnaca from May, with this being the Hungarian-based carrier's first route to the city from a destination classed as Southern Mediterranean. But as the data shows, there is still a lot more opportunity based on this analysis.
Looking further into the data, OAG Traffic Analyser shows that the average one-way fare between Birmingham and the Southern Mediterranean in 2019 was $94 USD (€79.90). With Ryanair being the only PELOCO carrier based at the airport, and with the airline having posted an average booked fare of €37.46 in FY20 (€57.17 including average ancillary revenue), Birmingham's current network average fare to leisure destinations is 113% greater than Ryanair's average (40% greater including average ancillary revenue).
Along with Birmingham, other Northern European cities which are underserved by the PELOCO airlines from southern leisure markets include Prague (population of 4.23 people per PELOCO seat), Glasgow (4.18), Warsaw (4.07) and Munich (3.96). Cities which did not rank in the top 20 underserved were Berlin (1.94), Nice (1.84), Düsseldorf (1.81), Copenhagen (1.76) and Bordeaux (1.65).