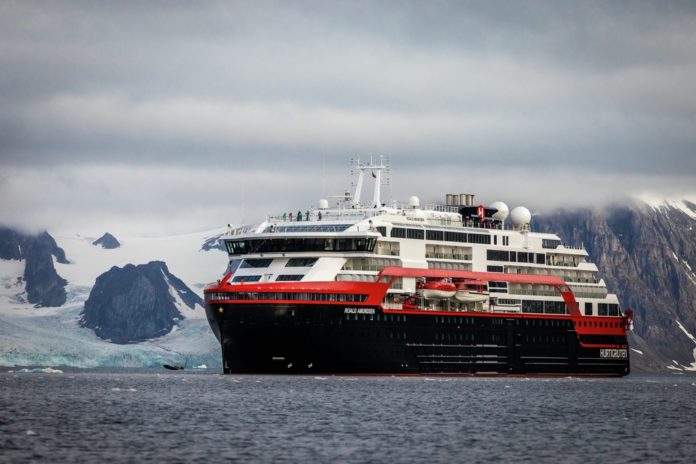 Sailings to Antarctica, a small but lucrative cruise niche, are getting new attention as demand for unusual experiences grows, especially in combination with luxury accommodations that weren't previously available there.
A relative handful of people visit Antarctica in a year — fewer, in fact, than go on a single ship the size of the Oasis of the Seas in three months.
But the number of people trying the seventh continent is surging, prompting new equipment and services from the small-ship companies that are allowed to bring guests to the relatively unspoiled landscapes.
Humans have been going to Antarctica for less than 200 years. The first organized tourism excursion happened in 1966 when Lars-Eric Lindblad cruised there on a chartered Argentine navy ship.
Since then, the company he founded, Lindblad Expeditions, has come a long way. Next year, it plans to introduce the 126-passenger National Geographic Endurance, a ship with far more modern comforts than the Argentine navy could provide.
Among the most anticipated features of the Endurance will be two "igloos": clear, domed structures built of triangular supports that will sit on an upper deck and provide a unique atmospheric experience.
.Lindblad spokeswoman Patty Disken-Cahill said the igloos will offer guests "a well-protected and private area to enjoy the outdoor perspective on the spectacular landscape of the polar regions." Each will feature LED lighting and a two-person bed with comforters for extra warmth, she said, adding, "Drinks will be served."
Disken-Cahill said details of booking the igloos are still being worked out, but Lindblad is not planning to offer reservation of the igloos prior to departure, nor is it planning to charge guests for their use.
The Endurance, named for polar explorer Ernest Shackleton's masted sailing ship, which famously sank in 1915 on an Antarctica expedition, is now being finished at a Norwegian shipyard and is expected to be ready for the 2020-2021 Antarctic season.
Another new way to get to Antarctica will be coming in 2021 from Silversea Cruises: the Antarctica Bridge, a business-class jet service that will enable passengers to avoid the two-day sailing each way across the Drake Passage between South America and the tip of Antarctica.
Ships crossing the Drake can experience some of the roughest sea conditions anywhere. Silversea's service on 12 departures of its Silver Explorer in 2020-2021 will skip the roiling waters, flying instead over 670 miles in two hours on a jet specially modified to land on King George Island, about 75 miles from the Antarctic Peninsula.
Conrad Combrink, Silversea's senior vice president of tour operating, expedition and destination management, said, "Antarctica Bridge is perfect for time-conscious travelers, as it will immerse guests into the White Continent in a shorter time frame."
Convenience comes at a price, however. The Antarctica Bridge will cost a couple $17,500 each, about $6,000 more than the typical entry-level Antarctic voyage.
Also new in 2021 will be Le Commandant Charcot, the first ship from French line Ponant custom-built for polar exploration.
The 270-passenger ship will be strengthened to Polar Class 2 standards, an unusually durable construction that enables "year-round operation in moderate multi-year ice conditions," according to the International Association of Classification Societies' polar rules.
That should give the Ponant ship maximum flexibility in navigating in Antarctica.