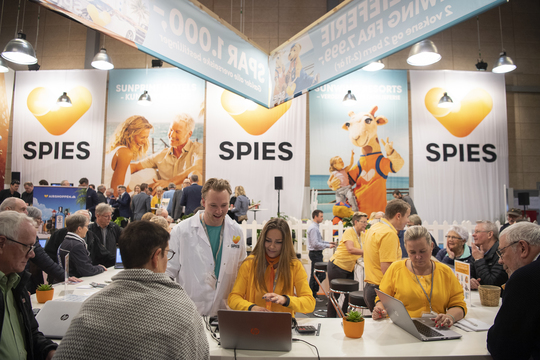 Was it a trip to the Gambia?
Or Gudhjem?
There is plenty of inspiration to come when Danish Travel Show opens the doors to thousands of travelers who are happy Danes.
In the five theme areas Denmark, Outdoor life, Golf, Camping and International, all travel dreams can be fulfilled, and the large international hall is usually a popular draw patch all the days of the fair. This year, among other things, you can explore the three major airports in Jutland, Billund, Aalborg and Aarhus, which welcome the many visitors with a wealth of destinations abroad. All the charter agencies are also ready with plenty of inspiration and guidance for the next sun and beach holiday.
" The charter journeys live at their best. At least that is the trend we are seeing at Holidays for All, where the charter industry is once again showing up. We can also see that it is a form of travel that has evolved over time. The charter trip in 2020 can be both a children's holiday and a couple holiday, as well as a yoga holiday or a bicycle holiday. Perhaps it is precisely the flexibility and service that make the form of travel still so popular," says Anders Ladefoged, project manager at MCH.
The charter journey in high course
At Spies you can also feel the demand for charter trips. At Danish Travel Show, the travel company is once again ready with lots of great offers, news and activities. Here you can, among other things, meet the children's beloved mascots Lolle & Bernie, the experienced travel advisers and hear exciting lectures.
" It is often talked about that interest in charter trips is soon declining, that the form of travel no longer catches, but we do not notice it at Spies. Rather, on the contrary. Charter trips are still incredibly popular. Whether you are a couple or a whole family, going to the Canary Islands or at the resort of Mallorca, it is easy and straightforward, and so the Danes continue to appreciate it. We look forward to inspiring and meeting a lot of our customers at Holiday for All. It's always a good experience," says Lisbeth Nedergaard, Head of Communications at Spies.
Danish Travel Showtake place 21-23. February 2020 at the MCH Exhibition Center Herning. This year's Partner Country is China – with a particular focus on the Chinese provinces of Chongqing and Anhui as well as the metropolitan city of Shanghai. The fair is Scandinavia's largest holiday fair and offers more than 1,000 exhibitors and is visited by around 60,000 holiday-friendly people.