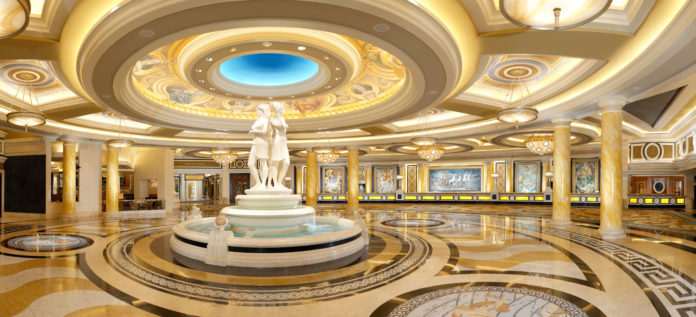 Caesars Entertainment president and COO Anthony Carano reported promising Las Vegas occupancy trends for the first quarter, describing weekend stays in Vegas as "sold out for the foreseeable future."
During the group's first-quarter earnings call Tuesday, Carano told investors that Caesars' total Las Vegas occupancy for the quarter came in at 63%, with weekends at 85% occupancy and midweek at 52% occupancy. For March, total Vegas occupancy recovered to 77%, followed by an 84% total occupancy level by April.
"We're very optimistic regarding the remaining three quarters of the year in Las Vegas and the return of the group and convention business and entertainment offerings that will drive the incremental demand to the market," Carano said. "Group and convention room nights on the books for the second half of 2021 versus 2019 are currently pacing up approximately 20%, and we're seeing good rate growth, as well."
Caesars CEO Tom Reeg, however, acknowledged the fact that current room rates generally remain below 2019 levels, both during weekend and midweek periods.
"The weekends are full as far as the eye can see, and we're yielding, but still, on a typical weekend, [we're] about 20 bucks below on ADR," said Reeg. "And that's where the return of group business can really help us in terms of compression."
Looking beyond Vegas, Caesars reported "encouraging trends" for its regional portfolio, with Carano adding that the company expects "to see continued improvement for these properties throughout the remaining three quarters of the year."
Caesars Entertainment, which last year was bought by Eldorado Resorts, primarily operates resorts under the Caesars, Harrah's, Horseshoe and Eldorado flags, among other brands.
For the first quarter, Caesars reported a net loss of $423 million. Companywide, revenue totaled $1.7 billion, which was up from $473 million a year ago for Eldorado.