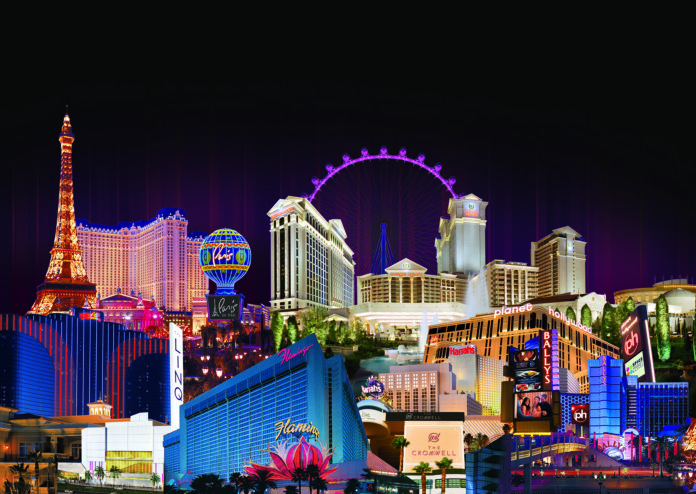 With Nevada casinos permitted to reopen on June 4, Las Vegas resorts are ramping up their plans to resume operations.
Nevada Gov. Steve Sisolak announced the June 4 reopening date on May 26. The state's casinos have been closed under state order since March 17.
Wynn Las Vegas said that both the Wynn and Encore resort complexes will be reopening June 4, with a total of 16 restaurants, six bars and lounges, three shopping esplanades, five pools and two salons expected to be up and running. The casinos and 18-hole golf course will also be open.
Wynn is one of several major Las Vegas casino companies that has committed to testing employees for Covid-19 before they return to work.
MGM Resorts, Caesars Entertainment and Boyd Gaming have partnered with Las Vegas' University Medical Center, the Culinary Health Fund and the Las Vegas Convention Center to provide Covid-19 testing for their gaming employees.
Caesars has confirmed that Caesars Palace and the Flamingo Las Vegas will be the first of its Las Vegas resorts to open as soon as state restrictions are lifted. Both properties will offer lodging, dining options and access to their outdoor pools as well as slot machines and table games. Live entertainment, bars, spas, buffets and valet parking, however, will not be resuming immediately.
Caesars added that the Harrah's hotel and the Linq hotel's gaming floor would reopen next, with timing based on customer demand.
MGM Resorts said the Bellagio, New York-New York and MGM Grand hotels will reopen June 4. The Bellagio's fountains will resume operating as will the Petrossian Bar and Prime, Lago and Mayfair Supper Club restaurants. The Bellagio pool, salon and fitness center will also reopen.
At New York-New York, several bars and restaurants and the fitness center will reopen, along with the Big Apple Roller Coaster, Big Apple Arcade and Hershey's Chocolate World attractions.
MGM Grand plans to reopen a number of food and beverage outlets, including Craftsteak and Wolfgang Puck Bar & Grill, as well as its salon, fitness center and a portion of its pool. The Signature at MGM Grand all-suite resort will also be open for business.
Las Vegas Sands will reopen the Venetian on June 4, with the Palazzo to follow at a later date. The Venetian's reopening plans will include its casino, pool deck, fitness center and multiple retail outlets, as well as more than a dozen restaurants and several bars.
Health and Safety Approach
Caesars has developed a comprehensive health and safety program that enhances the Company's existing standards and plans in these areas. The Company also intends to comply with recommended policies and procedures set by federal and applicable state and local public health authorities in each market in an effort to mitigate the spread of COVID-19.
The health and safety plan includes enhanced cleaning and sanitization of public spaces and guest rooms using CDC-recommended disinfectants and guidelines intended to limit the spread of the virus. All property employees will be trained on the new procedures and policies. The Company will instruct all team members to wash their hands for at least 20 seconds more frequently throughout their shift and signage throughout the properties will strongly encourage guests to do the same. Hand sanitizer will also be available throughout Caesars' properties.
At all properties, the Company will facilitate social distancing practices, including by limiting table game spots and slot machines. Non-gaming offerings, including entertainment, restaurants and bars, will likely be reopened on a phased basis with limited capacity. Spaces where guests or employees queue, including check-in, elevator lobbies, taxi lines, employee break rooms and cafeterias, will be clearly marked for appropriate social distancing.
All team members will be provided with a mask and they will be required to wear a mask while at work. Some team members including housekeeping and security, may receive additional PPE such as gloves based on their role and if required applicable government or tribal bodies. The Company will also strongly encourage guests to wear masks, which will be provided by Caesars.
Caesars will implement a health screening program for all employees as part of the process of reopening properties and bringing team members back to our properties. In addition, through December 31, 2020, Caesars will provide team members with an additional 10 days of paid COVID Sick Days if they or someone in their household have been diagnosed with COVID-19.