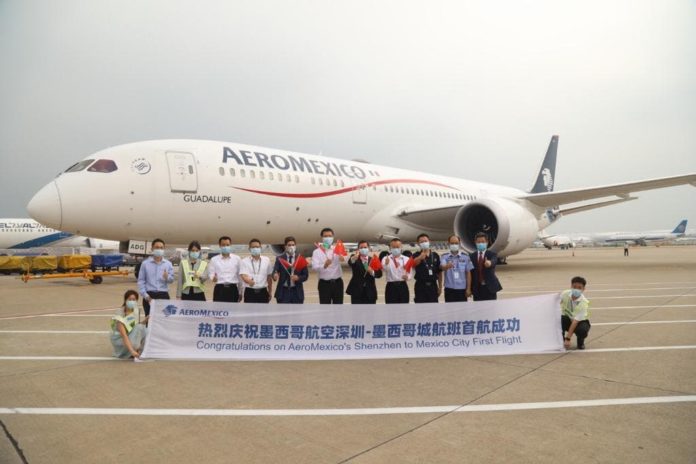 Amid the current pandemic, Aeromexico operated its longest flight ever this week. The Mexican carrier flew from Mexico City Airport to Shenzhen, in China. While it wasn't a direct route, it did establish a milestone in Mexican aviation history.
Until 2019, Aeromexico had one commercial route into China. The airline flew three times a week to Shanghai. Nevertheless, amid the drama surrounding the arrival of Emirates into Mexico (with a stopover in Barcelona), Aeromexico scrapped the route.
At the moment, Aeromexico's CEO, Andrés Conesa, is saying that the Mexican government never supported the carriers' petitions to the Chinese government. Aeromexico constantly asked for a daily slot in Shanghai, but the Chinese never gave it, and Mexico never helped. So, in response, Aeromexico canceled its route to focus its efforts on its new Mexico City-Barcelona flight.
Now, with the coronavirus pandemic, Aeromexico has started flying to China again. These flights are not transporting commercial passengers, but rather cargo and medical supplies. It has operated over a hundred flights to Shanghai and now to Shenzhen.
During these past months, the airline has transported medical supplies to 14 countries. It has carried over 1,400 tons in 3,600 flight hours, the airline said.  To operate these flights, Aeromexico has used its fleet of 19 Boeing 787 Dreamliners.
Aeromexico's longest flight ever
According to Aeromexico, its connection to Shenzhen was the longest flight it had ever conducted. But we have to take something into account: it was not entirely a direct flight. The non-stop route between Mexico and Shenzhen would be over 14,000 km. In the first leg of the trip, Aeromexico made a stop at Narita International Airport in Tokyo, Japan.
Aeromexico said,
"The plane departed last Sunday from Mexico City International Airport to Narita in Japan. There we made a technical stop and continued to Shenzhen, from where it came back on Monday in a direct flight to Mexico City, landing at dawn on 26 May." 
The return trip was non-stop and became the longest flight ever for Aeromexico and for the Mexican air industry. It's not hard to believe as only Aeromexico and Mexicana de Aviacion have operated transcontinental flights in Mexico's aviation history.