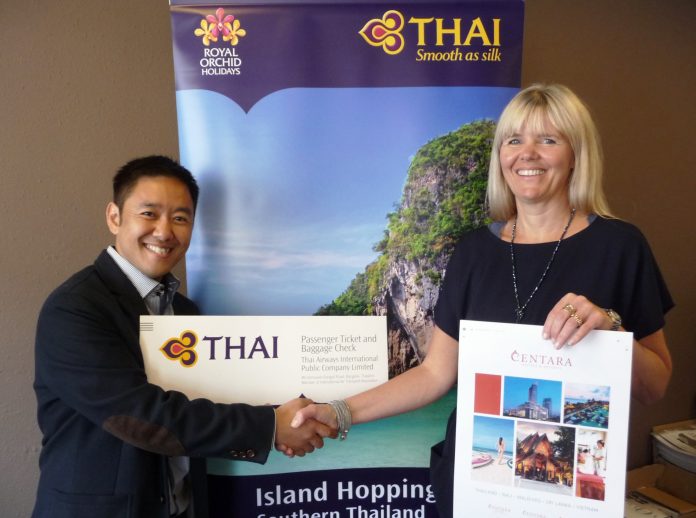 "My love (my husband for 24 years) he is the most romantic because, he writes the most great letters, with a lot of nice words and focuses on the positive things about me and our life together, and that makes me happy, and in my opinion is more valuable and important to me than gifts. (Even though I of course love gifts as well".
This is what Charlotte Buhl Hauge from Profil Rejser in Denmark wrote to TTOScandinavia in the competition to win a new honeymoon travel to Thailand on Thai Airways with 10 nights at five star Centara hotels in Phuket and Krabi together with a lot of excursions from Thailand Tourism TAT in Stockholm and 6.000 DKK in pocket money from TTO Scandinavia.
Charlotte Buhl Hauge:
"I am so happy and surprised. My husband and I will celebrate our silver anniversary on this trip and for the first time leave our two sons at home. We will only have each other to take care of.
It will be a wonderful trip to see and experience all the new things in Thailand. I was there 10 years ago and I also need this knowledge in my selling of Thailand.
I have now been working at Profil Rejser for 29 years."
Her biggest wish is to see the Elephant Club in Thailand, because she has been selling so many visits to it, but never experienced it herself.
Charlotte Buhl Hauge will together with her husband celebrate their silver anniversary at Centara Grand Beach Resort and Villas on Krabi.
Laid-back and naturally beautiful, the resort offers some of Thailand's most striking scenery, where verdant interiors meet turquoise waters.
Nestled in its own bay, the Centara is only accessible by boat, but still the surroundings are an abundance of opportunities to relax and explore.
The other place the winner couple will stay is at Centara Grand Beach Resort Phuket.
This resort is directly on the sands at Karon Beach, backed by a green hill and with its own waterpark. There are exhilarating leisure activities and water sports, so the couple can choose between relax and activity.