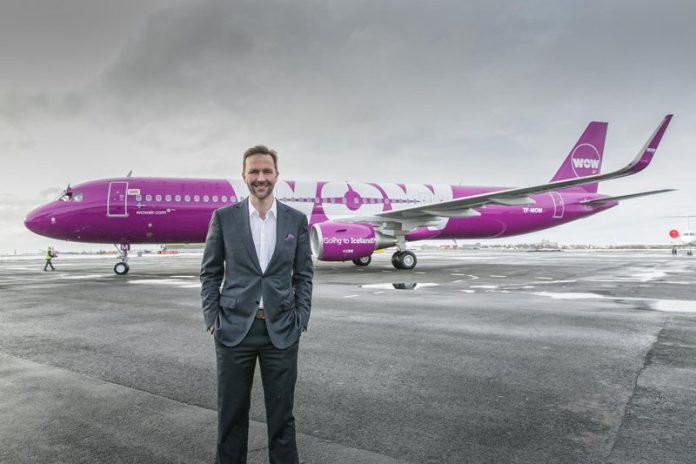 The low-cost airline WOW air is cleaning up its grid network by dropping, so far, three US destinations in the Midwest, Check-In.dk reports.
The Icelandic carrier is pulling back from its routes between Keflavik and Cincinnati, Cleveland and St. Louis and is leaving behind disappointed and angry US airports.
The first two stop at the end of October and will not return again next summer, while the route to St. Louis continues until January 7, after which it will also close for good.
The routes were originally announced at the end of August last year along with a route to Detroit. The Cleveland route opened on May 3 this year, followed by Cincinnati on May 9 and St. Louis on May 17.
"Unfortunately, we have to admit that the routes were a disappointment for WOW air this summer […] with a result that didn't live up to the targets for the routes compared to other markets in our network," admits WOW's communications chief Svana Fridriksdóttir.
Strong demand
Needless to say, the decision to cancel the routes to the Midwest was not especially welcomed at the airports, which are now going to lose connections to Europe.
It is known that US airports have attracted attractive route development programmes to attract new carriers.
"We are disappointed, because there has been a strong response in the market throughout the St. Louis region, and we were previously told that we were one of the airline's best markets in the Midwest," reads a statement from St. Louis Lambert International Airport in the state of Missouri.
"The airline will not comply with the terms of the incentives in the notice to stop operating. St. Louis Economic Development Partnership and others had been proud to bring WOW air to St. Louis, and we will explore other options for international connections."
Cleveland Hopkins International in the state of Ohio has given both WOW air and Icelandair a million US dollars' worth of marketing support for the first two years of their routes. According to the airport, WOW has only spent $55,000 in connection with the Cleveland Marathon and the North Coast Harbor Ice Fest.
"The market in Cleveland responded well to the low prices offered by WOW air. But we are disappointed that the route will not continue. The strong demand [showed] that there is increasing demand for transatlantic routes from Cleveland," said airport director Robert Kennedy in a statement.