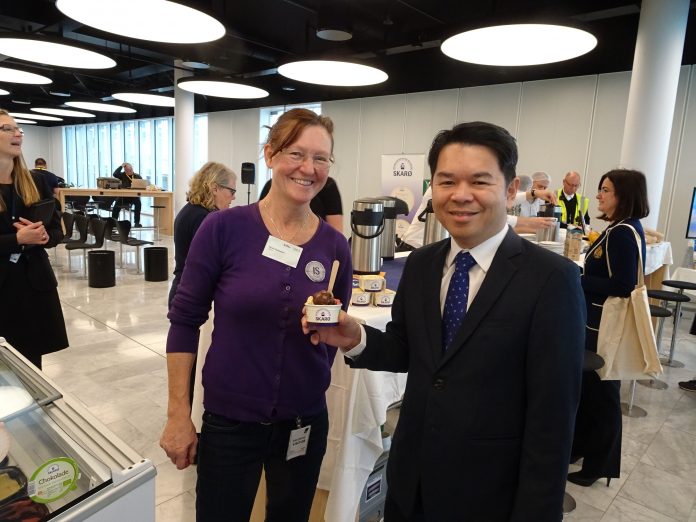 Singapore Airlines is now deploying Airbus A350-900 on the Copenhagen-Singapore route. The new A350, one of the most environmentally friendly aircraft on the market, replaces the B777-300ER. From 2 January 2020, the airline expands at the same time from five weekly flights to now departing every day.
"We are very pleased to welcome the Airbus A350 to Copenhagen. With the new A350 on the Copenhagen route, all our aircraft from the Nordic countries are served with the most environmentally friendly aircraft on the market. From Singapore, our customers can benefit from our huge route network to Australia, New Zealand and Southeast Asia. Customers can enjoy our modern and luxurious seats, complemented by our award-winning service – a combination that includes. gave us the TripAdvisor Prize 'The World's Best Airline' for two consecutive years, "says Erwin Widjaja, General Manager of Singapore Airlines Nordics.
The Airbus A350 is equipped with 42 seats in Business Class, 24 in Premium Economy Class and 187 in Economy Class. Characteristic of the A350 are the aircraft's aerodynamics and width, which allow for extra comfortable cabin solutions. gets extra wide seats and more legroom.
Daily departure
From 2 January 2020, Singapore Airlines expands simultaneously to fly seven days a week, giving travelers even better opportunities and much more flexibility from Copenhagen Airport.
"The Nordic market is extremely important to us, and by deploying a new aircraft and increasing the frequency, we can give our customers even better opportunities to travel quickly and conveniently to Southeast Asia, Australia and New Zealand," comments Erwin Widjaja of Singapore Airlines Nordics .
Singapore Airlines has flown from Copenhagen Airport for 42 years and today over 100,000 passengers a year use the Copenhagen-Singapore route. About 60 per cent. Of all Swedes who live in the southern parts of Sweden use Copenhagen Airport for their long journeys.
Singapore Airlines' Airbus A350 is equipped with the latest in-flight entertainment system KrisWorld, a large TV screen in each seat and Wi-Fi network. With KrisWorld, travelers can choose from more than 1,800 movies, TV shows, audio shows and games, and as a passenger you can get personalized recommendations for content based on preferences and viewing history.
Use free wi-fi and chat on your trip
Surf, tweet or send a text message on your own mobile phone, tablet or laptop while on the go – as a special service for the first A350 passengers on the route between Copenhagen and Singapore, Singapore Airlines offers from October 28 to 10. November a free 30MB chat and internet connection for up to 2 hours for all Premium Economy and Economy passengers