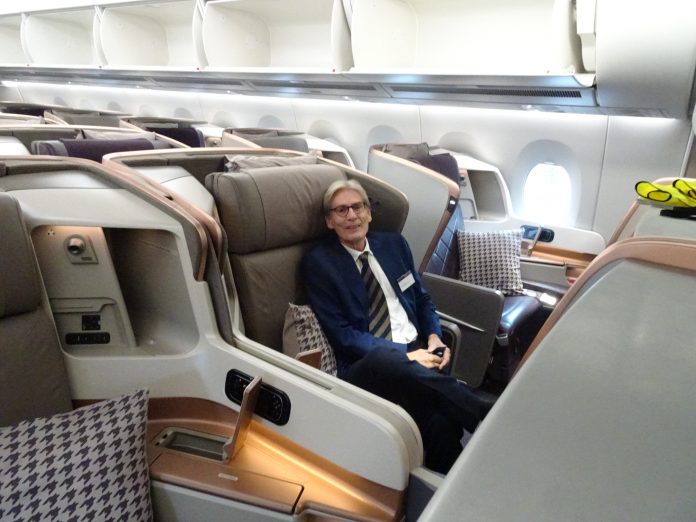 Locally produced Danish delicacies from Vendsyssel, Central Zealand and the South Funen Archipelago will be aboard the new Airbus 350-900, which will facilitate from Copenhagen. Common to the products is sustainability and quality – a requirement made to match the high standards of Singapore Airlines, the world's most award-winning airline.
From Farm to Plane
Local produce and unique flavors of the highest quality – the main ingredients in Nordic cuisine and something you have fallen in love with at the world's most award-winning airline, Singapore Airlines. This can be seen in the choice of partners, where Skarø Is, the small Danish farm dairy Sønderhaven and the latest shoot on the tribe, Friis-Holm Chocolate, are suppliers to the airline. The collaboration has emerged as part of Singapore Airlines' From Farm to Plane strategy to promote sustainable and locally sourced foods:
"We want to give our passengers the opportunity to experience, taste and try new products. This also applies to local Danish products, because we have fantastic raw materials and many small producers that deliver the highest quality flavors in Denmark. We have chosen our partners because they match the high-quality experience of our aircraft, "says Allan Hoffery, Sales and Communications Manager at Singapore Airlines in the Nordic countries.
How do innovation, luxury and sustainability taste?
Skarø Ice is one of the companies that has had a long-standing cooperation with Singapore Airlines. According to Skarø Is CEO Martin Jørgensen, the collaboration has been crucial to the company's business model to this day: "The collaboration with Singapore Airlines actually started a niche for us where we create products with identity for companies or events. Singapore Airlines was our first customer to order an ice cream to be specially made for them – an ice cream based on the iconic cocktail, Singapore Sling, to market both the city state and the airline. "
Inspired by the three key words that best describe the A350 – innovation, luxury and sustainability – the family business has created three variants; vegan chocolate, raspberry / rhubarb and salted caramel. Where the first two are sorbetis, the third is fresh whey protein, which gives the body a lot of energy.
However, only one variant must be used, and here it will be the task of the passengers to vote on which ice is to be taken on board. Singapore Airlines will provide tastings for all attendees on November 5, when the A350 sets off for Singapore from Copenhagen.
New gold medal winner on board the A350
Sønderhaven, located in North Jutland, is the only dairy in Denmark that has dairy and dairy cows in the same place. This means that the products have their own taste and scent and you avoid contributing to CO2 emissions during transport. That's why Preben Ørum, who runs and owns Sønderhaven with his wife, is also proud of the fact that Singapore Airlines has noticed their products:
"There have been some trends in the community, where the big companies are also increasingly focusing on where things come from. Sønderhaven Gårdmejeri is built on the vision of producing authentic food with decency, honesty and respect for nature, and that has therefore brought the attention of the very big players, "Preben Ørum says.
Going forward, the A350 will be able to enjoy the cheese "Vendsyssel", which has several big prices behind it. Among other things, it won a gold medal at the Word Cheese Award in Bergen in 2018.
Award winning chocolates
In connection with the launch of the A350, Singapore Airlines can also unveil a whole new collaboration with Friis-Holm Chocolate – a chocolate maker with several awards and world championships behind it.
Founder Mikkel Friis-Holm is a trained chef and the great focus on high quality, ethics and transparency in food production has always taken him on. Therefore, he is very pleased with the new cooperation.
"Singapore Airlines is known for being first movers and for having the highest quality on their aircraft. In that regard, I am proud to have been asked and come through the needle eye. It is positive that a large company like Singapore Airlines sees an opportunity in having that kind of transparency and at the same time wants to give its customers a really good taste experience ", says founder Mikkel Friis-Holm.