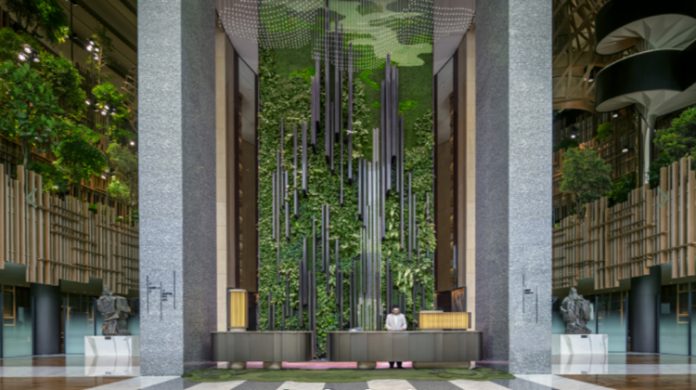 Pan Pacific Hotels Group Pushes their Sustainability Agenda
Pan Pacific Hotels Group is pushing the sustainability agenda with its PARKROYAL COLLECTION hotels. The newly renovated PARKROYAL COLLECTION Marina Bay has earned the highest accolade, "5-star Best Hotel Interior", at the International Property Awards 2021.
PARKROYAL COLLECTION Marina Bay joins the ranks of its sister hotel, PARKROYAL COLLECTION Pickering, which has been consistently awarded for its green design. It has been named "World's Leading Green City Hotel" and "Asia's Leading Green City Hotel" at the World Travel Awards and "HICAP Sustainable Hotel" in 2020.
Both PARKROYAL COLLECTION hotels breathe biophilic design. PARKROYAL COLLECTION Marina Bay—Singapore's first "garden-in-a-hotel"—has 2,400 plants indoors, and PARKROYAL COLLECTION Pickering features 15,000 square metres of vertical gardens, which is equal to 200% of its gross floor area, earning its title as a "hotel-in-a-garden" since it opened almost a decade ago.
The PARKROYAL COLLECTION hotels incorporate energy-saving and energy-generating features, including solar panels, double-glazed glass, motion sensors and food digestors to help reduce waste. PARKROYAL COLLECTION Marina Bay also has water-filtered taps in guestrooms, which is estimated to save 360,000 plastic bottles a year, while PARKROYAL COLLECTION Pickering has a rain-water harvesting system which collects 6,000 cubic metres of water a year to irrigate the gardens.